Friction Hinge Application Brief:
Ruggedized Computer Systems
Market: Various Mission/Safety Critical Applications
Customer: General Digital
Their Challenge
Traditional commercial-grade hinges do not have enough friction to remain in place when subjected to shock events. Picture using a computer on a boat that slams shut every time you hit a wave—not an ideal scenario.
Our Solution
The MA-685 Friction Hinges are used to give General Digital two primary benefits:
The hinges remain at their set angle, allowing the monitors to stay in working position during a high-shock event such as transit or combat.


Allows cables to pass through the hinge (as seen in the second picture), improving cable management and preventing pinching that can damage cabling.
General Digital has worked with TorqMaster for decades, and they have always been one of their most reliable suppliers. As another Connecticut manufacturer, TorqMaster was one of General Digital's first suppliers when they developed the SlimLine product line. It has been exciting for General Digital to watch the product line take off over the last 30 years, thanks in no small part to the quality hinges that TorqMaster provides.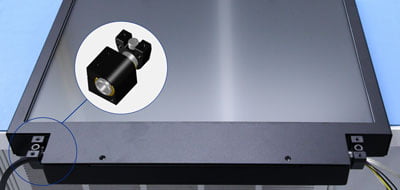 Do you have a hinge related challenge? We're here to help!